December Residential Highlights

December brought cooling across the board to the Portland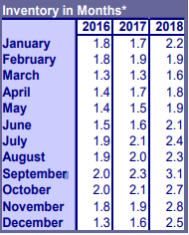 metro area. Pending sales, at 1,599, fell 9.0% short of the 1,757 offers accepted last year in December 2017 and 16.0% short of the 1,904 offers accepted last month in November 2018.
Closed sales (1,846) fared similarly, ending 21.4% lower than in December 2017 (2,350) and 13.9% lower than in November 2018 (2,144). This is the coolest December for closings in Portland metro since 2013, when 1,821 were recorded.
New listings, at 1,255, cooled 22.4% from December 2017 (1,617) and 45.7% from November 2018 (2,310).
Total market time rose to 64 days in December, with inventory decreasing slightly to land at 2.5 months.

Year to Date Summary

Activity in 2018 was mixed compared to 2017. New listings (41,287) increased 1.2%. Pending sales (29,809) decreased 4.9% and closed sales (29,771) decreased 5.9% this year.

Average and Median Sale Prices

Comparing 2018 to 2017 through December, the average sale price rose 5.5% from $428,700 to $452,400. In the same comparison, the median sale price rose 5.3% from $379,900 to $400,000.

Area Rental Rates
The rental rates for the Portland/Salem area have held steady over 2018. Units across our region have had negligible movement. Comparing 2 Bedroom units in Portland Metro rents for the year were steady with a .002% decline.
Salem 2 bedroom units finished steady as well with a .005% gain.